R2Pᵀᴹ MISAGO® RX Self-expanding Peripheral Stent
Confidently intervene from a radial approach

Available on a 200 cm shaft length
PROVEN PERFORMANCE IN TREATING PAD PATIENTS WORLDWIDE 1-3
After one year in the OSPREY clinical trialᵃ: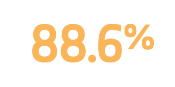 Freedom from target lesion revascularization
Measured using Kaplan Meier analysis1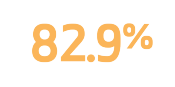 Sustained patency
Measured using Kaplan Meier analysis (PSVR of ≤ 2.4)1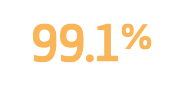 Freedom from stent fracture
per stent post procedure1
aThese results are based on clinical data using femoral artery access and are not based on data specifically related to transradial access.
TERUMO IS IN EVERY DETAIL
Increased flexibility lowers the potential for stent fracture⁴:
The continuous spine-free stent is designed to promote optimal blood flow and eliminate high-strain stress zones that can lead to fracture.4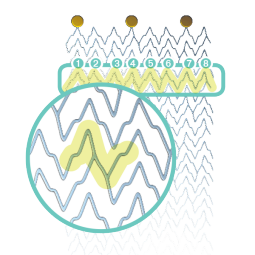 Combined high-crush resistance4 and moderate radial force5 helps to maintain vessel patency along the full length of the lesion.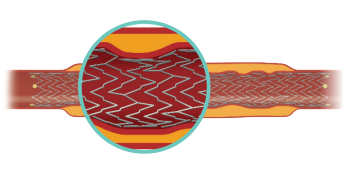 RESPONSIVE IN-VITRO PERFORMANCE IN SEVERE BEND SITUATIONS4
No stent fractures recorded during:
90% Torsion Test
Simulated rotation between supine and fetal position.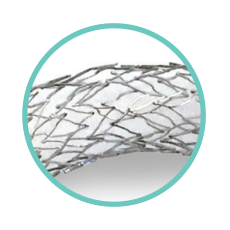 More flexible stents may be associated with improved patency.6
40% Compression Test
Simulated response during thigh
compression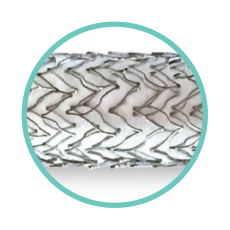 PRECISE DEPLOYMENT AT THE LESION SITE¹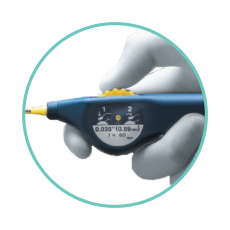 Minimizes jumping, recoil, or foreshortening - with a simplified thumbwheel system that allows for single operator deployment.
Enables exact stent placement - with the pushability of a triaxial catheter design.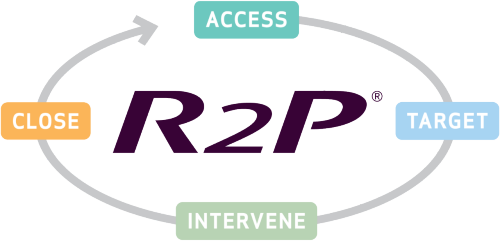 R2P™ is the first and only portfolio of longer-length radial devices specifically designed for peripheral procedures, including above-the-knee PAD/CLI vascular interventions. 
R2P™ MISAGO® RX Self-expanding Peripheral Stent (1 per box)
| | |
| --- | --- |
| Product Code | Description |
| SXR06040R | 200 cm, 6 Fr, 6 mm x 40 mm |
| SXR06060R | 200 cm, 6 Fr, 6 mm x 60 mm |
| SXR06080R | 200 cm, 6 Fr, 6 mm x 80 mm |
| SXR06100R | 200 cm, 6 Fr, 6 mm x 100 mm |
| SXR06120R | 200 cm, 6 Fr, 6 mm x 120 mm |
| SXR06150R | 200 cm, 6 Fr, 6 mm x 150 mm |
| SXR07040R | 200 cm, 6 Fr, 7 mm x 40 mm |
| SXR07060R | 200 cm, 6 Fr, 7 mm x 60 mm |
| SXR07080R | 200 cm, 6 Fr, 7 mm x 80 mm |
| SXR07100R | 200 cm, 6 Fr, 7 mm x 100 mm |
| SXR07120R | 200 cm, 6 Fr, 7 mm x 120 mm |
| SXR07150R | 200 cm, 6 Fr, 7 mm x 150 mm |
| SXR08040R | 200 cm, 6 Fr, 8 mm x 40 mm |
| SXR08060R | 200 cm, 6 Fr, 8 mm x 60 mm |
| SXR08080R | 200 cm, 6 Fr, 8 mm x 80 mm |
| SXR08100R | 200 cm, 6 Fr, 8 mm x 100 mm |
RX ONLY. Refer to the product labels and package insert for complete warnings, precautions, potential complications, and instructions for use.
MISAGO® RX Self-expanding Peripheral Stent [Instructions for Use.] Tokyo, Japan: Terumo Corporation; 2020-02. 
Schulte KL, Müller-Hülsbeck S, Cao P, et al. MISAGO 1: first-in-man clinical trial with MISAGO nitinol stent. EuroIntervention. 2010;5:687-691.
Schulte KL, Kralj I, Gissler HM, et al. MISAGO 2: one-year outcomes after implantation of the MISAGO self-expanding nitinol stent in the superficial femoral and popliteal arteries of 744 patients. J Endovasc Ther. 2012;19:774-788. 
Müller-Hülsbeck S, Schäfer PJ, Charalambous N, Yagi H, Heller M, Jahnke T. Comparison of second-generation stents for application in the superficial femoral artery: an in-vitro evaluation focusing on stent design. J Endovasc Ther. 2010;17(6):767-776. 
Deloose K, Bosiers M, Callaert J. TVR reduction in the SFA. Endovascular Today. October 2014;44-47. https://evtoday. com/2014/10/tvr-reduction-in-the-sfa/. Accessed March 6, 2019. 
Smouse R. Achieving long-term SFA treatment success: stent design or patient selection. International Symposium on Endovascular Therapy (ISET) 2014, January 18-22, 2014; Miami Beach, FL.
Indications
The R2P™ MISAGO® RX Self-expanding Peripheral Stent is indicated to improve luminal diameter in symptomatic patients with de novo or restenotic native lesions or occlusions of the Superficial Femoral Artery (SFA) and/or proximal popliteal artery with reference vessel diameters ranging from 4 mm to 7 mm and lesion length up to 150 mm.
Important Safety Information
Do not use this device in patients who exhibit angiographic evidence of severe thrombus in the target vessel or lesion site before/after undergoing Percutaneous Transluminal Angioplasty (PTA) procedure, patients with contraindication to antiplatelet and/or anticoagulation therapy, patients who are judged to have a lesion that prevents proper placement or deployment of the stent, a lesion that is within an aneurysm or an aneurysm with a proximal or distal segment to the lesion, or a lesion through which a guidewire cannot pass. This device should only be used by a physician who is familiar with, and well trained in, Percutaneous Transluminal Angioplasty (PTA) techniques, stent implantation, and transradial access.