GLIDEWIRE® Baby-J™ Hydrophilic Coated Guidewire
AN INNOVATIVE SOLUTION FOR TRANSRADIAL SUCCESS
Transradial access offers many advantages over the traditional femoral approach, including the potential for less pain, fewer complications, faster recovery times, and better clinical outcomes.1
The TERUMO 1.5 mm GLIDEWIRE® Baby-J™ Hydrophilic Coated Guidewire combines the leading performance of the GLIDEWIRE® Guidewire product portfolio with design features ideal for transradial access:

ENABLES SMALL VESSEL ACCESS
Tight J-Tip shape and superior lubricity retention2-4* designed to minimize slide resistance allows for smooth and uninterrupted wire tracking through the small radial and subclavian arteries.
TRACKS THROUGH TORTUOUS ANATOMY
Nitinol alloy core resists kinking in tortuous anatomy, allowing for easier and faster tracking.
AVOIDS RADIAL ARTERY SIDE
The J-Tip wire is designed to avoid side branches of the radial artery and to minimize the potential risk of perforation and other complications.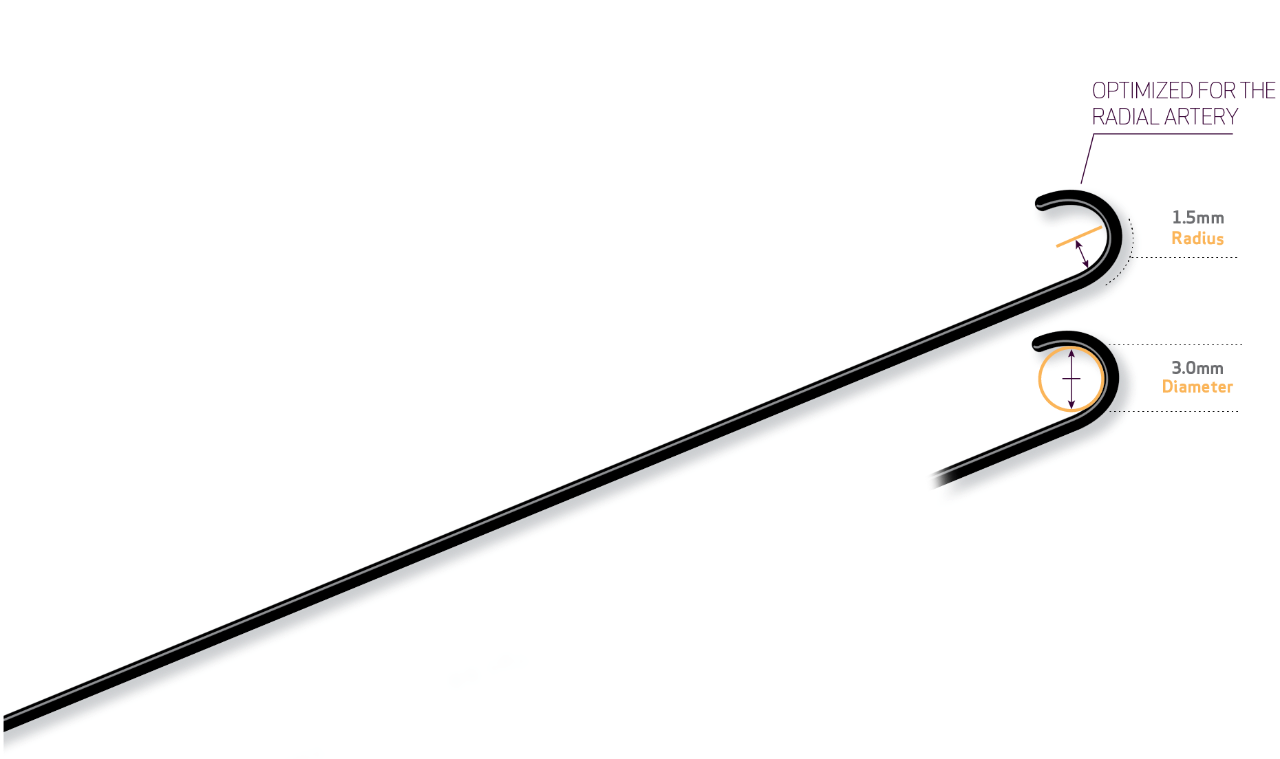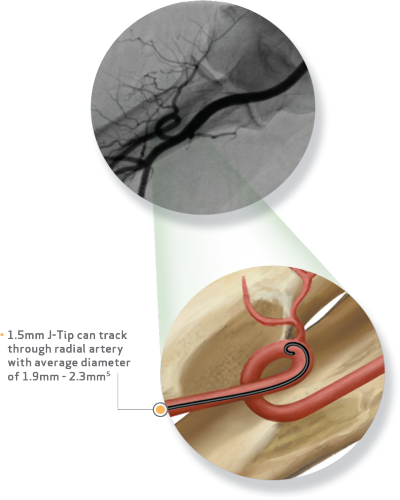 *When compared to ZIPwire™, HiWire®, AQUATRACK®, and Laureate®.
1.5 mm J-Tip GLIDEWIRE® Guidewire
Product Code
Wire Type
Diameter
Flexible Taper Length
Tip Shape
Total Length
GR3525
Standard
0.035"
3 cm
1.5 mm J-tip
180 cm 
GR3526
260 cm 
*Packed 5 per box
RX ONLY. Refer to the product labels and package insert for complete warnings, potential complications, and instructions for use.
Hamon M, Pristipino C, Di Mario C, Nolan J, Ludwig J, Tubaro M, et al. Consensus document on the radial approach in percutaneous cardiovascular interventions: position paper by the European Association of Percutaneous Cardiovascular Interventions and Working Groups on Acute Cardiac Care** and Thrombosis of the European Society of Cardiology. EuroIntervention. 2013 Mar;8(11):1242-51. doi: 10.4244/EIJV8I11A192.
Shah A, Lau C, Stavropoulos SW, et al. Comparison of physician-rated performance characteristics of hydrophilic-coated guidewires. J Vasc Interv Radiol. 2008 Mar;19(3):400-5.
Niazi K, Farooqui F, Devireddy C, Robertson G, Shaw RE. Comparison of hydrophilic guidewires used in endovascular procedures. J Invasive Cardiol. 2009 Aug;21(8):397-400.
Niazi K. Guidewire Satisfaction Study. Data on File 2012. Terumo Medical Corporation.
Okuyan H, Hzal F, Taçoy G, Timurkaynak T. Angiographic evaluation of the radial artery diameter in patients who underwent coronary angiography or coronary intervention. J Invasive Cardiol. 2013 Jul;25(7):353-7.