GLIDEWIRE ADVANTAGE TRACK™ Peripheral Guidewire
Leverage superior performance for your demanding CLI procedures

Available in 0.018" & 0.014" diameter sizes
The addition of GLIDEWIRE ADVANTAGE TRACK™ Guidewire to your PAD/CLI toolkit provides you with
superior performance1,a for your most challenging cases:
Superior Pushability: High deformation resistance provides superior pushability to access and cross challenging above-the-knee (ATK) & below-the-knee (BTK) anatomy and lesions
Superior Trackability: Provides superior ability to track and navigate anatomy of the vasculature
Best-in-Class Durability: Provides superior shape retention for navigating small, tortuous vessels
Superior Lubricity: TERUMO Glide Technology™ hydrophilic coatingb provides superior lubricity to support ease of progression through vessels
Enhanced Visibility & Selectivity: Gold coil tips enhance visibility in conjunction with a 25 cm distal taper designed to minimize vessel trauma and improve selectivity of vessels
a   When compared to Abbott Hi-Torque Command 18 LT and Boston Scientific V-18
b   Referring to the distal portion of GLIDEWIRE ADVANTAGE TRACK™ wire which is GLIDEWIRE®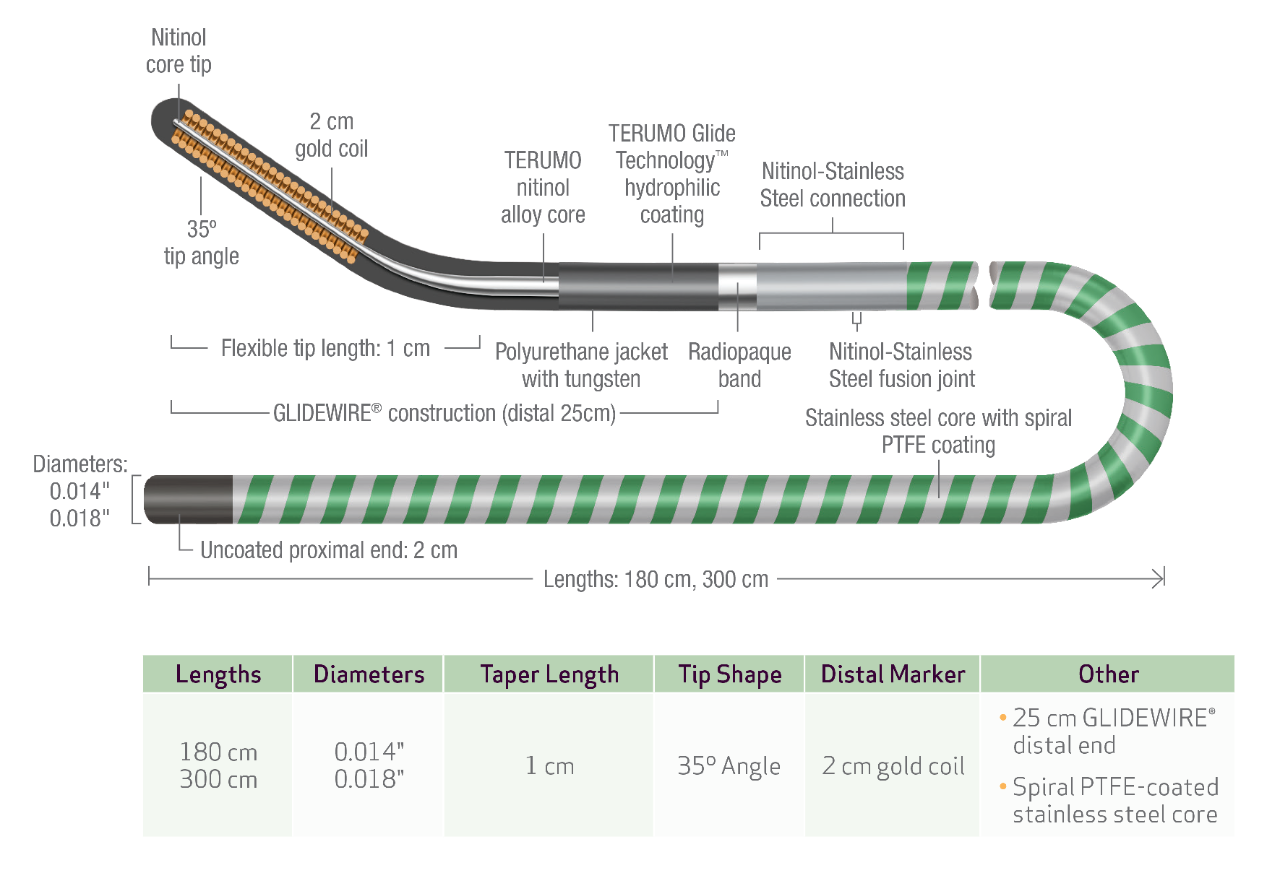 LENGTHS
DIAMETERS
FLEXIBLE TAPER LENGTH
TIP SHAPE
DISTAL MARKER
OTHER
180 cm
300 cm
0.014"
0.018"
1 cm
35˚ Angle
2 cm gold coil

25 cm GLIDEWIRE distal end
Spiral PTFE-coated stainless steel core
GLIDEWIRE ADVANTAGE TRACK™ Peripheral Guidewire
PRODUCT
CODE
DIAMETER
TOTAL LENGTH
SPIRAL PTFE PROXIMAL COATING LENGTH
DISTAL GLIDEWIRE® LENGTH
FLEXIBLE TAPER LENGTH (TIP)
TIP SHAPE
GAT1418
0.014"
180cm
155 cm
25 cm
1 cm
35˚ Angle
GAT1430
0.014"
300cm
275 cm
25 cm
1 cm
35˚ Angle
GAT1818
0.018"
180cm
155 cm
25 cm
1 cm
35˚ Angle
GAT1830
0.018"
300cm
275 cm
25 cm
1 cm
35˚ Angle
RX ONLY. Refer to the product labels and package insert for complete warnings, potential complications, and instructions for use.
1. Data on file.